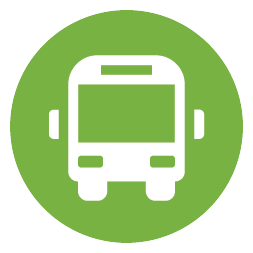 FIRE SUPPRESSION SYSTEMS FOR BUSES, TRUCKS, COACHES AND RAILWAY
Due to urbanization, public transportation is increasingly under pressure to serve more passengers, buses are bigger and runs at higher frequency. The heart of the bus is the engine which is in a totally enclosed area. Most bus fire starts from the engine compartment and spread very quickly throughout the bus.
As a result of protecfire's ingenuity and consistent research & development of the extinguishing technology for vehicle engine protection, we created a revolutionary fire suppression technology that is unlike any others. We call this new system detexline (detection – extinguishing Line) ; a pressureless, single pipeline technology.

With this patented system, the extinguishing and pilot function are carried out over just one pipe line, the liquid agent container is compact and factory sealed with no need for pressure gauge, the patented detectors can be selected based on pre-determined temperature for activation (as we believe that the engine compartment have different temperatures at different areas, such as the turbocharger).
DMT für Untertageszulassung
VdS für Großküchenzulassung
SP4912 für den Motorenschutz
Our compact design provides saving on material and mounting, this solution takes up less space in the object it protects and can be optimally integrated. Installation is quick and easy as there are only three main components; Liquid Agent container, Detectors and Spray Bars. No electricity is needed. No plastic tubes as fire detectors!
The protecfire system is developed to use worldwide in both cold and hot climate and designed after the new UNECE R-107 and the Swedish SP4912.
The protecfire extinguishing system is thoroughly EMC, vibration and temperature tested according to vehicle standards to ensure it will perform in any situation.
Since the system is almost maintenance-free, high expenses and downtimes are significantly reduced for the operating company.
Benefits?
No pressure
No electricity
(nearly) maintenance free
Ultrafast detection & extinguishing
Hybrid system (liquid/gas)
Works in all angles and positions
UNECE certification
KBA certified in Germany
No replacements for 10 years
Made in Germany quality
FIRE SUPPRESSION SYSTEMS FOR BUSES , TRUCKS AND RAILWAY :